A new 10-colour MPS EFA 430 flexographic printing press equipped with a fully automated configuration is installed at Alyaska-Poligrafoformlenie. The company is confident their second MPS machine, already operating at full capacity, will expand production capabilities for various labels at the lowest cost.
Alyaska-Poligrafoformlenie (St. Petersburg), a leading Russian player in the self-adhesive labels market has installed its second 10-colour MPS EFA 430 flexographic printing press equipped with automated print control, UV and air dryers, rail-mounted multi-lamination unit as well as de-lam/re-lam, web-turn bar and screen printing modules.
The company was founded in 2003 resulting from a merger of the Alyaska-Print printing company and the Poligrafoformlenie holding. Today, the printer produces all types of self-adhesive labels, flexible packaging, shrink labels, thermal tickets, stickers and other products. Production is located at two sites where more than 10 flexographic presses, two gravure printing machines, two digital presses, laminators, thermal printers and a large fleet of finishing equipment are installed.
Over 500 clients are served by Alyaska-Poligrafoformlenie, including well-known brands of alcoholic beverages, food, cosmetics, household chemicals and other products. Thanks to the high competence of specialists as well as state-of-the-art equipment, Alyaska-Poligrafoformlenie is a multiple winner of major international and national awards for the best labels and packaging.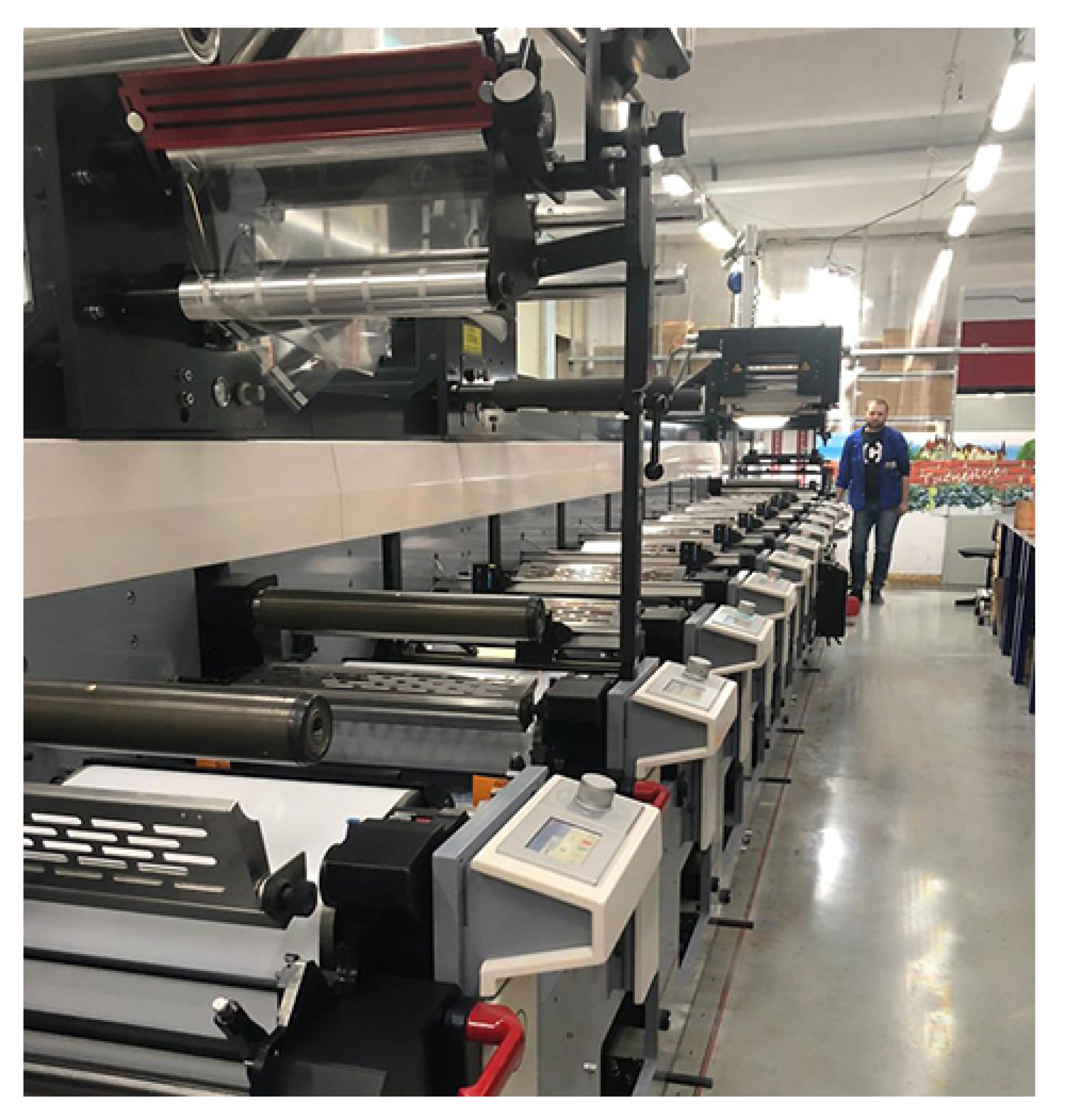 Success with first MPS press
Alyaska's first 9-colour MPS EF 430 flexo printing press was installed in 2017 due to a major re-equipment of production. Prior to the EF installation, Alyaska's printing fleet consisted mainly of narrow-web presses from Mark Andy and Gallus. The installation of this MPS press made it possible to replace two printing machines from the previous generation, and increase production efficiency with the wider printing width and higher productivity of the new machine.
Successful experience from the two-year operation of their initial MPS machine, with high performance while maintaining high print quality, automation capabilities, and low cost of ownership, led Alyaska's management to decide on another investment in the Dutch-made machine.
Additional MPS press doubles print speed
The latest new MPS EFA 430 10-colour flexographic press installed at Alyaska, led by Ogard company, the Russian representative of MPS Systems, is a high-performance and highly automated servo-drive printing and finishing system. It achieves stable print on any self-adhesive material, aluminum foil, thin monofilms, and even on light cardboards. Robust and reliability-based machine design provides very accurate register, and any deviations in the printing and finishing process are controlled and adjusted automatically.
Mikhail Belousov, CEO of Alyaska-Poligrafoformlenie said: "Investing in a second MPS machine gave us a good opportunity to replace our old printing equipment for a much more efficient and productive environment. For example, with our two MPS printing presses we can print twice as fast than before, while maintaining high quality. This is also supported by video control systems installed on both machines. As a result, our investment in a second MPS was influenced by our extremely positive impressions of the first MPS in terms of high print quality, overall performance, automation, and waste reduction.
"And of course, the interchangeability in tooling and rearrangement of print jobs between machines are an additional advantage. Our first MPS machine absolutely works without any complaints and we are very satisfied with Ogard's high-skilled service team. We optimized our portfolio of jobs and efficiency of work shifts increased by 25%. Therefore, the logical step was the investment in a second machine from the same manufacturer."
Maximum level of automation
All printing units on Alyaska's latest MPS press are equipped with a fully automated print control system including automation on the print sleeve settings on the print gap, slide-out ink drawers, and the innovative MPS Dynamic Print Control technology to guarantee automated flawless and consistent print quality.
For initial jobs, material calibration memory is uploaded and recalled for repeat jobs. Print positional settings for print sleeves and anilox rolls can also be stored and recalled. All desired print pressure settings are achieved within seconds and waste quota is virtually negligible.
"As for the capabilities, we opted for the maximum level of automation with our latest MPS EFA machine," continues Belousov. "This allows fastest changeover time with lowest amount of waste. Also, I would mention the very attractive price offered by MPS."
Another feature installed in Alyaska's new MPS press is a hot air-drying system. This allows the use of water-based inks in one of the sections in which an additional air-drying chamber is installed with continuous supply and heating of air, providing drying of water-based inks or varnishes.
"We are happy with our new machine, which allowed us to immediately transfer all key jobs to both MPS machines - they are now the driving force of our flexographic production," concludes Mikhail Belousov.
"Our company has worked with the largest Russian brand owners for more than 15 years, which have the highest quality requirements for their label and packaging products. Our investment in a second MPS machine with the highest level of automation allows us to produce premium labels with various configurations and with the highest quality that all our customers expect."
Let's connect. We're here to help.