Following the success of their dedicated production unit established in Åstorp, Sweden in 2019 with a 100 percent focus on pharma label production, Eson Pac has invested in additional label printing capacity to accommodate increased pharma label demand and deliveries.
Purchased and already installed in January this year was an MPS EFA 430 fully-automated, 8-colour flexo printing press. Additional capacity in the finishing area will be installed in March.
Leading the sale were Anton Zhukov, MPS Regional Sales Director together with Jeppe Mølvadgaard from Nortech Solutions, the MPS local representative in Norway, Sweden, and Denmark.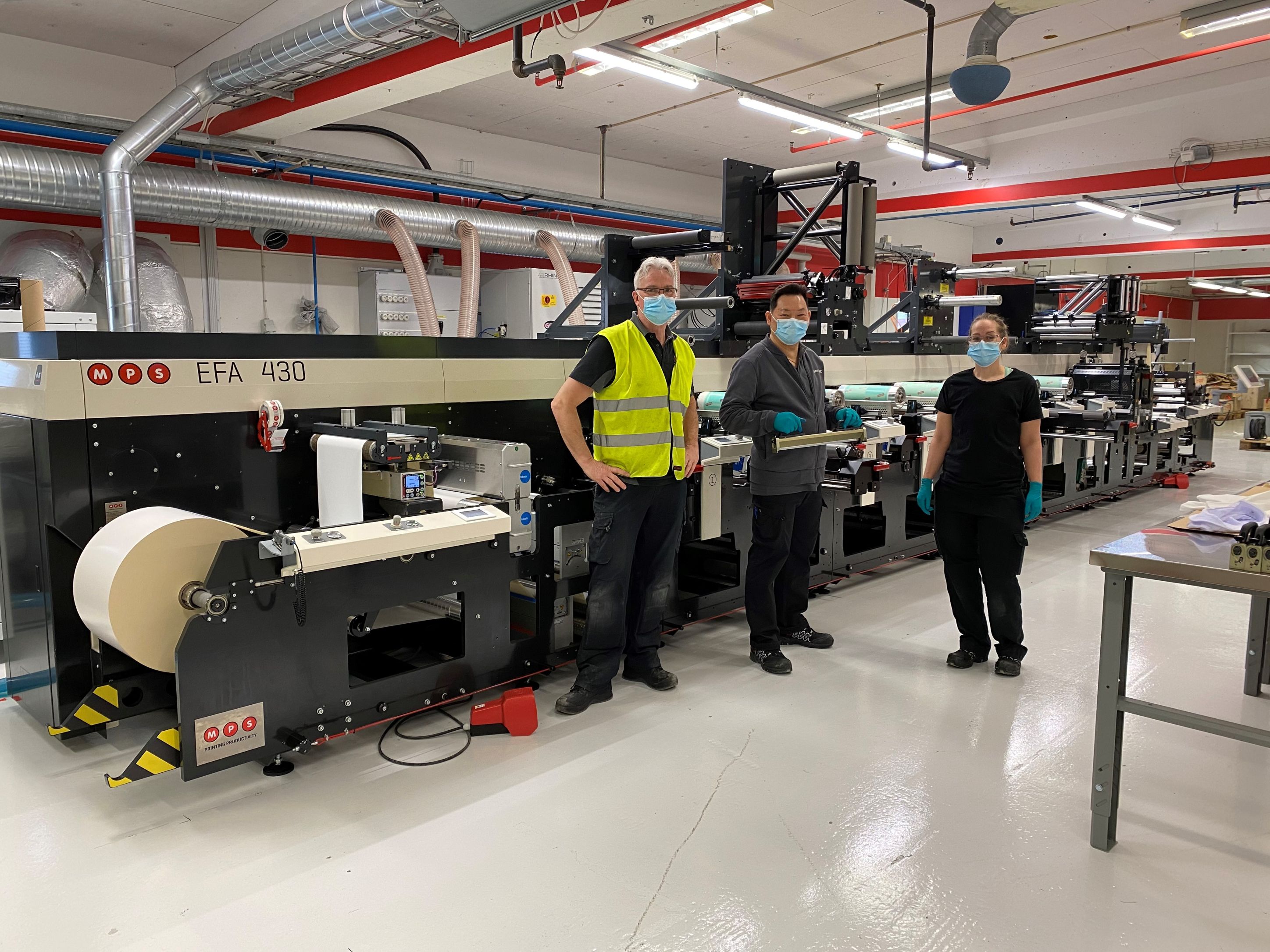 Eric Schoofs (MPS Field Service Engineer) with Eson Pac employees during installation of the new MPS press
Fit for the future
"Our new production line is of the highest quality with all the latest technical innovations," proudly said Pierre Åkesson, COO at Eson Pac. "The MPS EFA is a fully automated flexo press especially designed for label production on various substrates. The machine is 'fit for the future' with extended technological solutions for highest productivity. It is ideal for us and our customers, and a natural step for Eson Pac as we continue to focus on providing solutions for the pharma industry, engineered with cutting-edge knowledge by our competent personnel."
Eson Pac AB was founded in 1967 and holds its head office in Veddige, Sweden. With a focus on providing solutions for the pharma packaging supply chain, Eson Pac is today a leading European provider of pharma solutions in cartons, labels, and leaflets with four factories dedicated to production.

"We are pleased Eson Pac chose MPS for their future increased production of pharma labels," said Mølvadgaard. "After thorough and extensive market research, Eson Pac chose MPS for high quality, innovative technology, and efficiency, all points on which the superb MPS EFA machine was rated 'most value for money'. We look forward to locally supporting Eson Pac on their continued journey as a leading pharma specialist in Europe."
Maximum waste savings
MPS focuses on their customers' performance by improving the overall production. Zhukov explained: "With MPS patented technologies that specialize in increased quality, productivity and flexibility, the press must be extremely productive, provide maximum up-time, and operation should be trouble-free. Our goal is to maximize waste savings and achieve the highest productivity levels. We believe the MPS EFA 430 easily achieves this goal."
"Owning the best production equipment on the market for all our production segments enables us to further improve our service levels," concluded Åkesson.
About Eson Pac AB
We are pharma packaging specialists with expert competence in all aspects of the production and delivery of packaging solutions for the pharma supply chain.
Pharma is our passion. Our ambition is to possess extensive knowledge of the industry and relevant insights regarding our customers' context and the end users. This enables us to ensure high quality in everything we do, and always deliver what was promised.
MPS. Operator Focused, Results Driven.
Let's connect. We're here to help.