The event takes place on September 7, 2022 in Kuala Lumpur, Malaysia
MPS Systems Asia has confirmed participation of 16 partners in their table top exhibition to be held on September 7, 2022 in Kuala Lumpur, Malaysia. The participating companies are DIC, Miraclon, Apex International, UPM Raflatac, Flexo Wash, Benison, Böttcher, ESKO, CGS ORIS, IPT (BST), Press Systems (GEW), TESA, Martin Automatic, Domino, Fedrigoni and Univacco.
Visitors to the table top exhibition, taking place from 9.30 AM – 3:45 PM (UTC/GMT +8 hours) at the MPS Systems Asia office and showroom, will have the opportunity to interact with the industry partners representing a gamut of printing solutions including inks, flexo printing plates, anilox rolls and sleeves, specialty papers, anilox cleaning, label inspection systems, workflow solutions, UV LED curing systems, adhesive tape, and unwind/splice and rewind technology.
"We are pleased to have 16 partners support our table top event in Kuala Lumpur," said Tim Klappe, Managing Director Asia Pacific at MPS. "They will provide our Asia-Pacific visitors a valuable opportunity to receive information about various printing technologies including prepress, printing, ancillary, and finishing systems—all in one place. We look forward to dynamic discussions and a successful exhibition."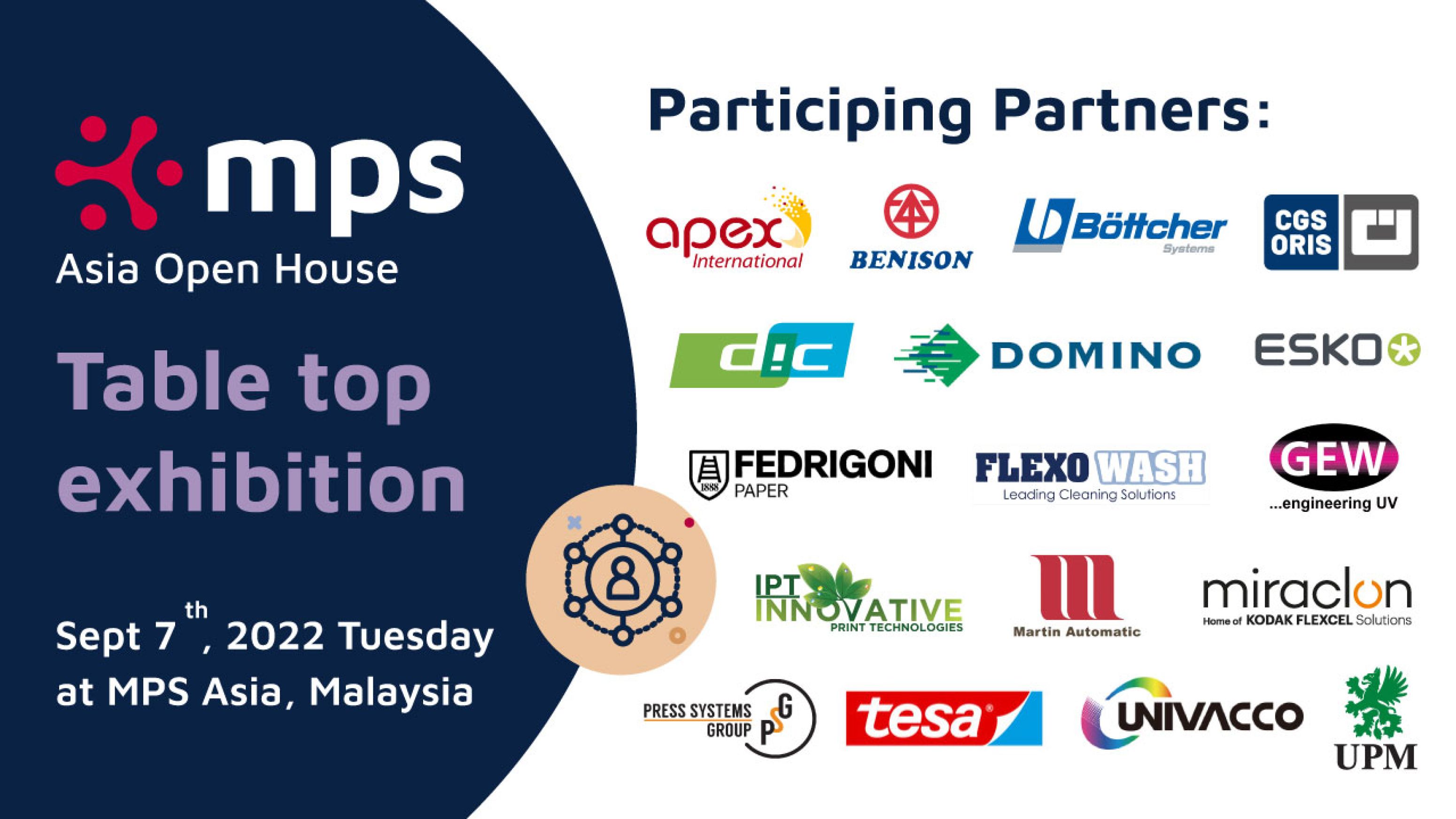 Registrations still accepted for open house
On September 6, 2022 MPS Systems Asia is opening its doors to greet customers at its office and showroom in Kuala Lumpur, Malaysia. The open house will include presentations covering the latest industry trends and feature a live demonstration of the MPS EF-530 seventh-generation flexo press with eight colour flexo units and one EXLp packaging station. Focus of the open house will be on shrink sleeves and flexible packaging, as well as the benefits of connectivity and performance optimization.
Label printers and converters who wish to attend the MPS Asia open house on September 6 and the table top exhibition held September 7 can learn more about the events and register here.
>> Here to MPS Asia Open House Program and registration page