Over 130 guests were greeted in Kuala Lumpur, Malaysia to see a live press demonstration, hear informative presentations, and meet industry partners.
MPS Systems Asia opened its doors September 6-7, 2022, at its office and showroom in Kuala Lumpur, Malaysia and welcomed over 130 guests including customers, the MPS Asia-Pacific agent network, and industry partners.
The open house featured presentations from five guest speakers covering the latest industry trends, and a live demonstration of the MPS EF-530 seventh-generation flexo press with eight colour flexo units and one EXLp packaging station. Focus of the open house was on flexible packaging, as well as the benefits of connectivity and performance optimization.
MPS Systems Asia also hosted a tabletop exhibition where customers had the opportunity to interact directly with 14 participating industry partners: DIC, Miraclon, Apex International, UPM Raflatac, Flexo Wash, Böttcher, ESKO, CGS ORIS, BST, Press Systems (GEW), TESA, Martin Automatic, Fedrigoni, and Univacco.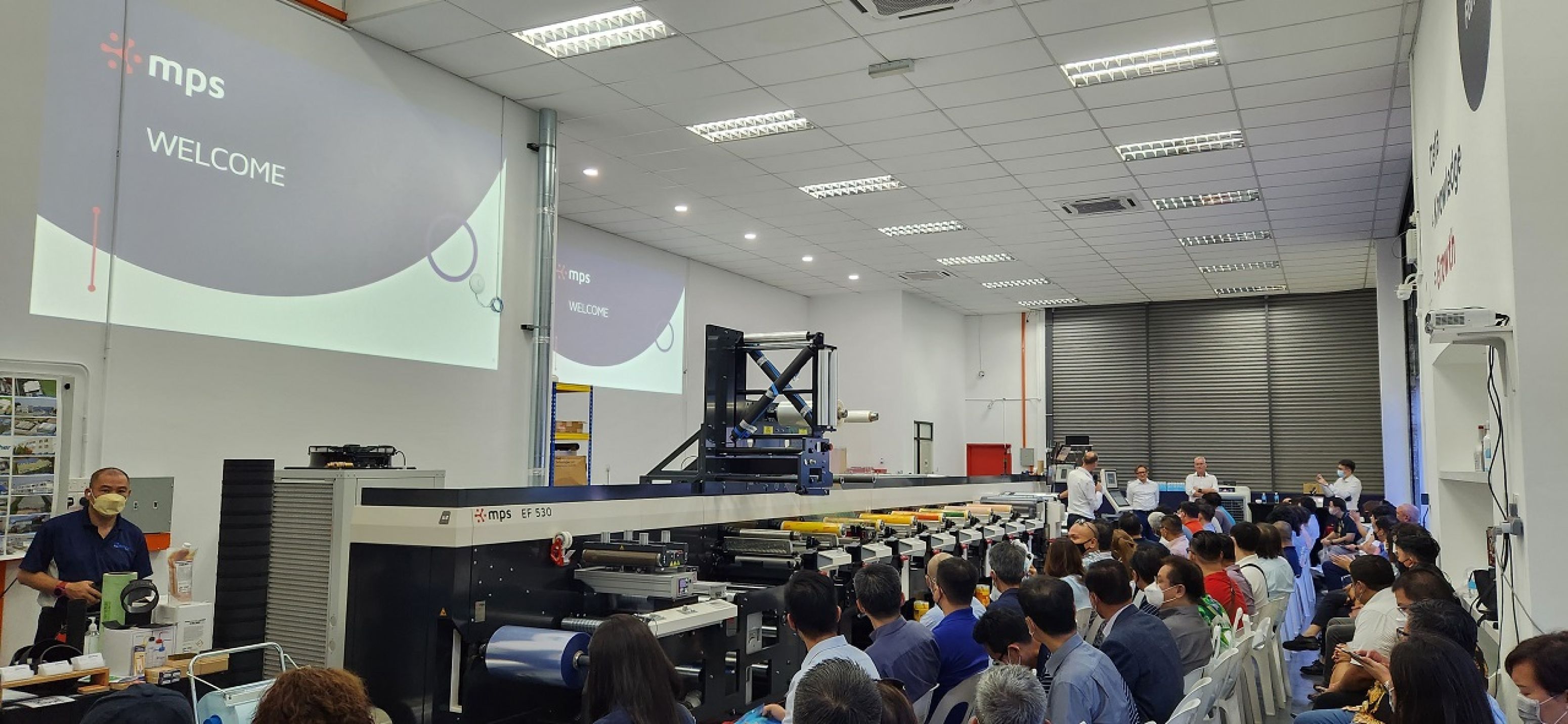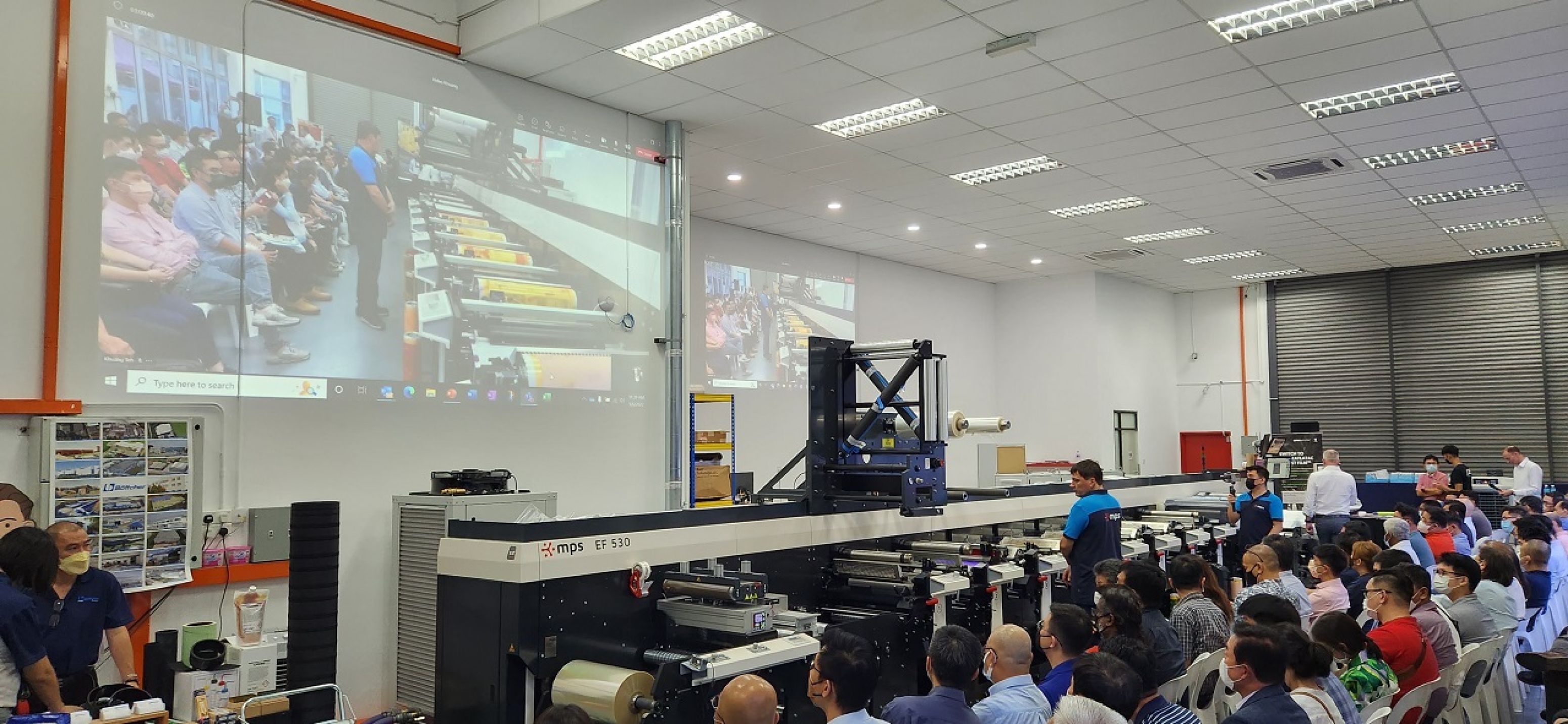 "It was an incredible opportunity to gather together a large number of printers and industry partners to bring valuable support to the Asia-Pacific printing industry," said Tim Klappe, Managing Director Asia Pacific at MPS. "Guests had the opportunity to ask questions with industry partners and see first-hand how flexible packaging printing, particularly pouches and shrink sleeves, is the sweet spot with narrow web flexo press. The high turnout exceeded our expectations, and we are grateful to everyone who attended and supported our open house."
"Printers are experiencing shortages in skilled labour, shorter print runs, and smaller order sizes," said Atze Bosma, CEO of MPS. "During the live EF-530 press demonstration, participants experienced the machine's ease of operation, high automation and productivity, and high print quality. This is a connected machine—an area where MPS has heavily invested—that can help printers use valuable data to plan improvements and efficiencies in their overall production processes."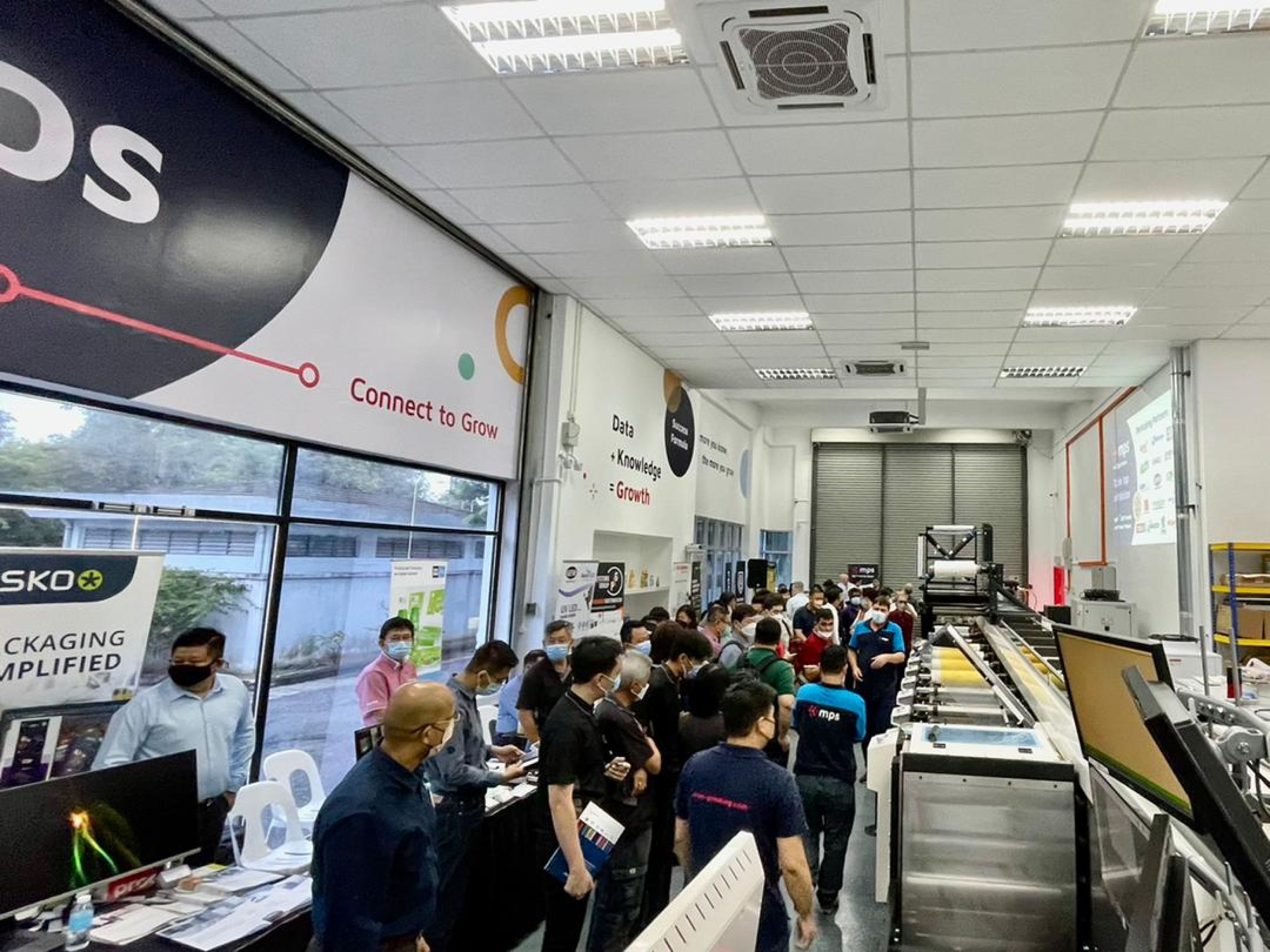 Feedback from MPS partners who attended the open house
It is valuable to learn how connectivity and its implementation can be made a breeze, to help business owners understand their processes and make more informed decisions. We are honoured to be part of this.
Peter Goh Yong Long | Sales Manager Singapore & Malaysia | ESKO


From day one, our partnership and vision alignment with MPS has resulted in a strong collaboration and joint commitment to its development and market success in Southeast Asia. The outstanding open house event delivered by the MPS team showcased the value of their expertise as a visionary press manufacturer. The quick changeover of the MPS press resulted in coming up to speed at 200m/min with superb quality while rapidly utilizing DIC LED inks, demonstrating the strength of two market leaders.
David Robins | Regional Sales & Marketing Manager Flexo Ink Business and Regional Accounts Management, AP Region | DIC


I am completely convinced of the MPSConnect programme. It is a very concrete step towards realizing sustainable development goals, and will certainly help manufacturers and converters achieve 'responsible consumption and production goals'. It is a simple, clear, and easy to apply PDCA process.
Hoang Ha | C.illies Vietnam


As a key supplier to MPS, BST was very pleased to be invited to participate in what turned out to be a hugely successful open house and seminar. Traditionally, it has been very difficult to penetrate the wide web gravure and flexo film converting market with an alternative narrow web solution; the demonstrated EF-530 press clearly shows that this divide can be crossed. The press was equipped with BST web guiding, web viewing, and web monitoring systems and as a regionally based subsidiary, BST South East Asia is committed to supporting MPS in the region both from a commercial and technical standpoint.
Albert Tan | Regional Sales – Malaysia & Singapore | BST


Böttcher is proud to be a supply chain partner of MPS Systems, known as providing one of the highest flexo printing press in productivity. The two-day event organized by MPS Systems Asia successfully demonstrated and proved the MPS EF series to participating printers. It was an amazing event, bringing printers together from around the Asia-Pacific region. Great effort and commendable work from the entire MPS Systems Asia team!
Kenny Loo | Managing Director | Böttcher Malaysia


We would like to thank MPS Systems Asia for inviting Miraclon to collaborate and present at their open house, one of the first in-person joint partner events we have had in the Asia-Pacific region since travel has normalized. It was a very successful event and provided us with an opportunity to exchange information with MPS as well as other industry leaders. By working together with innovative partners like MPS, we can further our vision of 'Transforming Flexo Together' and help packaging printers maximise performance and exceed quality expectations of brand owners.
Joerg Kullwitz | Regional Commercial Director, Asia Pacific at Miraclon


Big thanks to MPS! It was an impressive partnership event that brought together the latest flexo technologies and designs to make the printer's life easier. It is all about combined solutions to allow printers to complete complicated jobs with high print quality, cost-effectively, and with process efficiency. For plate mounting tape choices, tesa is happy to land on a solution that fits the application.
Stephanie Lee | Regional Key Account Manager, AP | tesa tape Asia Pacific Pte Ltd


The overwhelming attendance at the MPS Systems Asia open house event is evidence of great interest by the industry, especially in the flexible film packaging segment where there's growing demand for shorter print runs.
The live print demonstration clearly showcased the capability and efficiency of the MPS press which includes quick machine setup time, fast print speed with consistency, swift registration, less waste, and more.
It was particularly interesting to see the subject of machine uptime/utilisation mentioned by one of the guest speakers arouse the attendees' interest.
Sam Seow | Sales Director of Asia Pacific | APEX International
The recording of the MPS Systems Asia open house event is available here.