IN the market for an equipment upgrade, Redfern Labels turned to ROTOCON and MPS for a press that could live up to the same consistency as it's ol' faithful – a machine that's been in the company's service for 22 years. But once the next-generation MPS EF340 arrived at the factory floor, Redfern Labels hasn't looked back since …
We're often faced with good and bad choices in life. It can either have a good outcome or make a turn for the worst. In the printing industry, the principal remains the same. Choosing a reliable press that will deliver a quality and diversified offering while keeping with technological advancements, could make or break your company. There's a sea of choices out there. But choosing the one best suited to your business, well, therein lies the rub.
For over 30 years, Redfern has been a key labelling partner to farmers, fruit exporters, educators, entrepreneurs and many other household brands, offering a comprehensive range of labelling solutions, including self-adhesive, wraparound, shrink sleeves and flexible packaging.
The company started out as a label print broker in 1995,and in 2001 progressed to a manufacturing facility. In July 2017, Long Run Labels and Laminates merged with longstanding customer Redfern Print Services SA to become Redfern Labels. The acquisition enabled the company to be competitive in multiple label markets.

Since 2001, many print jobs at Redfern were done on a Mark Andy 250 flexo press. For 22 years, the press has servedthe company faithfully (and still going strong!). Redfern hasrelied heavily on the press to get the job done. But overthe years, Redfern has seen its customers' printing needschange drastically, compelling the company to evolve anddiversify its offering, including the development of moresophisticated colour work along the way. Managing directorTeresa Adinolfi and the company's stakeholders felt it wastime for an equipment upgrade, and it was decided to semiretireRedfern's ol' faithful, and replace it with a more modernmachine capable of carrying the new workload.
'With limited eight colours, we've experienced some challenges over the years, and we realised that we neededthat extra ninth colour. The delamination and re-laminationon plastic material was also big deal for us. We found thatthe polypropylene material stretched on the UV press,' Teresacomments.
Redfern has noticed a growing demand for reverse printing among its customers. Reverse printing on labels is a processin which the image or text is printing on the underside of thelabel material so that it's visible through the transparent ortranslucent front of the label. 'We've never been able to do it without the process slowing down the press.' Redfern went in search of a machine capable of overcoming these obstacles.
The company also required a press that could help reduce energy costs, and an LED curing system was a requisite. 'Thiswas non-negotiable for us,' states Teresa. 'It's not that the machine consumes that much energy, but if you look at UV versus LED, there's a significant cost-saving on energy.'
After more than two years of careful deliberation, Teresa and her team eventually turned to their long-standing print technology partner, ROTOCON, who introduced them to the next-generation MPS EF340. The deal was done, and Redfern replaced its first-ever printing press with a new, state-of-theart machine. It's also the 30th MPS press installed in South Africa, signifying a significant milestone for the manufacturer. Redfern's MPS EF340 was dubbed 'Marvel' due to its strength and endurance, and because of its black and red colour scheme. 'It's the factory's new superhero,' Teresa quirks. It might have been the end of an era for our first press, but a new dawn was beckoning for Redfern with the addition of Marvel …
MPS EF340: A helluva machine
To help customers unleash their printing potential and get maximum results from the press, the MPS EF340 is based onthe successful foundation of six previous generations of EFplatforms. The EF340 comes with a host of new improvementsand advancements.
Now standard on all MPS presses, the slide-out ink drawer allows for shorter changeovers and shortened preparationtime. A full aluminium sleeve and mandrel (no air) deliverspredictable print quality, easier and faster job changeovers,as well as increased longevity of tooling. Improved robust rail units for different converting and embellishmentfunctionalities, a standard finger bar safety protection thatallows for the cleaning of plates during production, andergonomic improvements for better handling and higheroutput are all new features of the MPS EF340.
But the most noteworthy standout on the MPS EF340 is its new range of connectivity and automation features.The MPSConnect function combines sensor technologywith the internet for real-time data collection andvaluable 24/7 fast-based insights. 'The automation andconnectivity functionality gives us new perspective on theoverall performance of the press and the operators, aswell as response from our maintenance and productionmanagement,' Teresa points out. 'I'm a systems-drivenperson, so the fact that I can double-check the human factoris a big plus for me.'
The MPS EF340's Performance Program puts the control, monitoring, management and improvement of printingproduction right at the fingertips of the press's operator orowner. 'The machine's capability of providing this level ofdata is phenomenal,' she adds.
The EF platform offers endless functionality for converting, such as UV, LED hot air drying, adding various printingtechnologies, including screen, gravure and monochromeinkjet. The press also has multiple options for multi-layerprinting, die-cutting for flat, rotary or semi-rotary, variousembellishment option (embossing, foiling) and many more.
Another advantage of the MPS is the fact that it can delaminate and re-laminate on paper as well as polypropylene plastics, another big advantage for Redfern.
A turnkey service offering
'The Redfern management team is self-motivated to find the best solutions for customers and in terms of our needs analysis, did a lot of the research ourselves, carefully weighing up the three options against historical production challenges and shortcomings,' she states.
The team drew up a pros and cons list in terms of technology and presentation, and according to Teresa, the MPS presentation stood head and shoulders above the rest. 'From start to finish, the MPS team – in particular MPS's regional sales director Marius van Lith – really went the extra mile for us,' she explains. 'We received regular progress updates, and they even sent us video of when the machine was running. The project was given a number, and that was the number on the machine when it arrived.' Teresa says she's never been a mother, but it was like witnessing the birth of a child. 'It felt like the machine had a soul. This was largely thanks to the exceptional service of the people behind the project.'
Teresa also feels that MPS made the right choice in selecting ROTOCON as the press manufacturer's official and exclusive distribution partner in South Africa. 'We felt that we were in good hands right from the start. It can only go from strength to strength from here.'
According to ROTOCON director Patrick Aengenvoort, they knew that the MPS EF340 would make a great fit for Redfern. 'They required quick changeovers when the workload got heavy. They have a standing contract with a major retailer, so it's a lot of short runs. The MPS is designed in such a way that you can actually set up different jobs while the machine is running, and allowing quick changeovers.'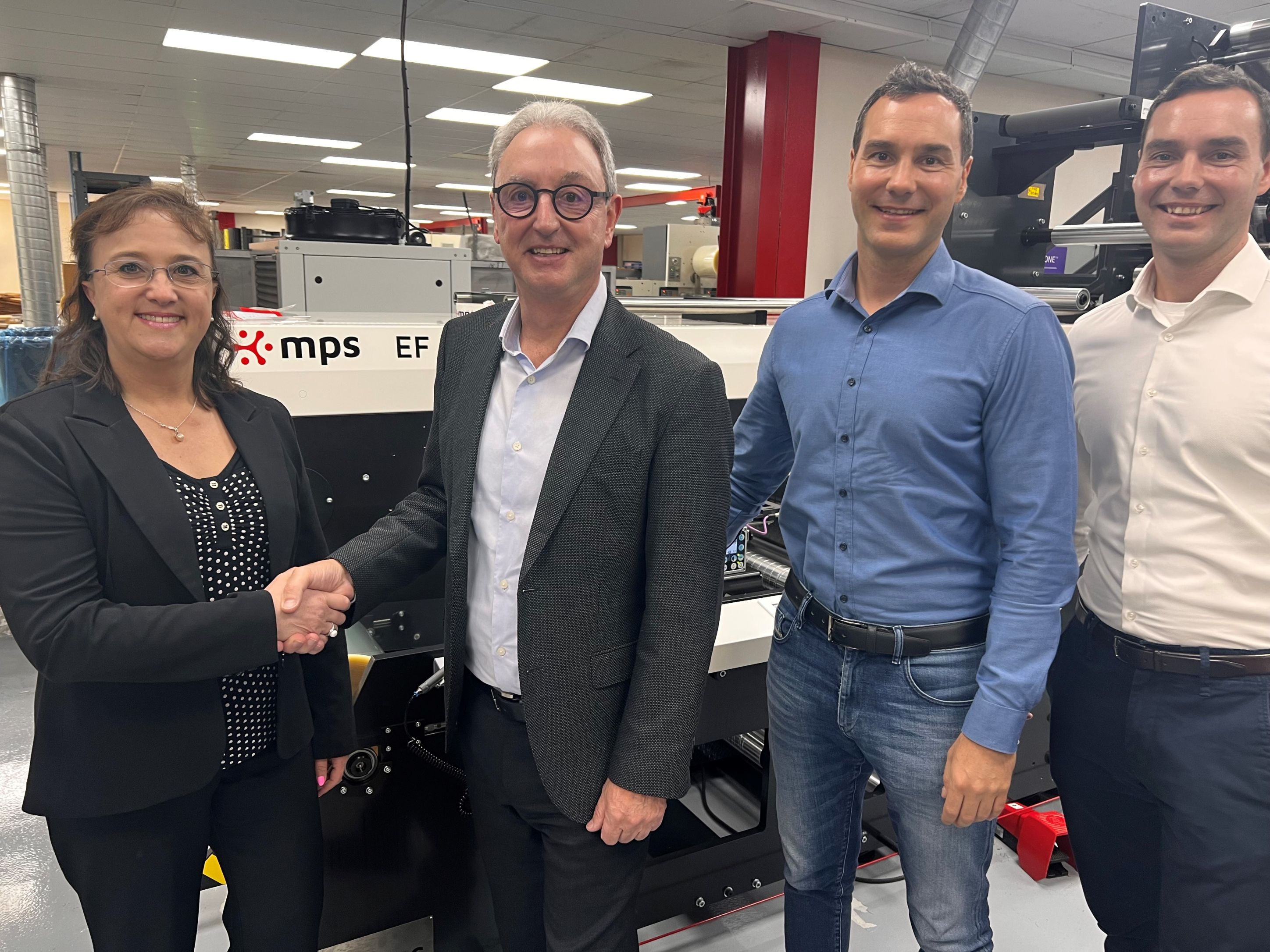 Redfern Labels' managing director Teresa Adinolfi with ROTOCON group CEO Michael Aengenvoort, and directors' Patrick and Pascal Aengenvoort.
ROTOCON has a long-standing relationship with Redfern, supplying the company with consumables and tooling since2001. 'They sold us our first ROTOFLEX rewinding machine.They've bulked up their technical service offering and theirlocal die-manufacturing facility, which is great. They're justalways been there for us. ROTOCON shares our work ethicsand really works hard to provide an exceptional service to us,'explains Teresa.
Patrick and his team have also upgraded the MPS EF340 press with a WINK SmartGap Advance system that eliminatesproblems with deviations between the magnetic and anvilcylinder. The WINK SmartGap ensures smooth runs withoutvibration, and requires minimal maintenance.
This highly-automated press includes the country's first Phoseon Nexus ONE air-cooled UV LED curing system, whichenables high-quality printing of substrates at maximum pressspeeds, energy savings of up to 70% compared to Mercurylamps, environmental benefits, immediate press uptimebecause there's no waiting for lamps to warm up and reducescrap rates with increased yields.
Patrick explains that the lamp has a low intensity but a strong curing power. Additionally, no ducting is required forthe system, the airflow is very well controlled, which meansthat the system can go directly into the machine at a low heat.The Nexus ONE is also very operator friendly – the Phoseonswirl colour serves as an indicator of the lamp state: a whiteswirl shows that the LED station is disabled, a green swirl thatthe station is enabled, a purple indicator light means that theLED is on, an orange indicator light shows that the LED is in awarning state and a red indicator light means that the LED isin a fault state.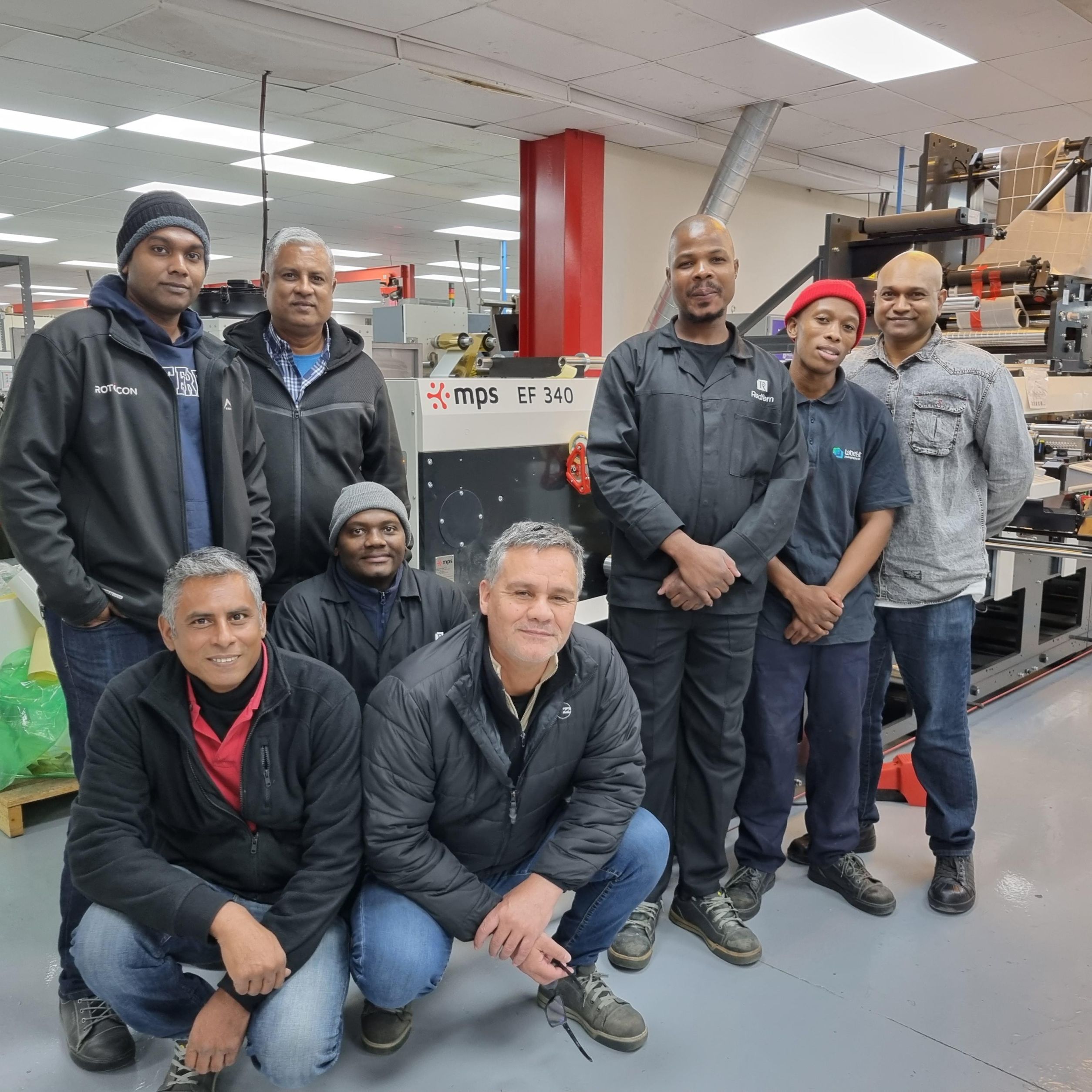 Group photo of Redfern team in front of the MPS press
Teresa mentions the support and assistance that ROTOCON offered Redfern has been immense. 'It's more than justa supplier-customer relationship, it's a partnership. Withadvanced technical know-how, and high levels of aftersalesservice, ROTOCON is a company that truly cares about the customer.'
Teresa emphasises that this was a collaborative effort. 'Due to the ongoing communication from the ROTOCON and MPSteams with our plant manager Lance Zeeman, who workedwith our production and maintenance teams, we knew exactlywhat was expected. Therefore, they could do the installationas quickly and efficiently as possible. The communication, aswell as the project management, was outstanding.'Patrick states that ROTOCON supplies a full-on labelprinting production line with all the necessary equipmentneeded to fulfil any label printing and finishing requirements.'We offer turnkey, holistic solutions, whether it's printing andfinishing equipment, consumables, tooling, or 24/7 technicalsupport.'
Patrick adds that part of ROTOCON's service offering is to incorporate technology that's in line with moderndevelopments in the label printing space. 'With our vastinternational network and experience, we strive to stayahead of the market, and keep a watchful eye on emergingtrends.' With an undeniable reputation for delivering superioraftersales services, he mentions that ROTOCON customersbenefit from the company's appointed specialists capable ofproviding them with best practice advice on various print andfinishing options.
'The MPS press filled the requirement of the customer,' says Patrick. 'The customer bought into the PerformanceProgram, and immediately realised the value it offered interms of operator efficiency. It's a bit like playing golf. Youplay against yourself. Did I hit the one-hour target again? DidI run the same base wastage for the exact same job? Themachine can tell you whether you're experiencing issues withthe dies or the plates. It's a very clever piece of technology.We're excited, and can't wait to see what successes will rolloff Redfern's MPS machine in the future. Watch this space …'
In conclusion
Teresa adds that there'll be a follow-up, refresher training session. 'We believe in continuous training. The data willstart revealing what the operators' limitations are.' They willalso be assisted by the VirtualCoach, a real-time trainingand continuous improvement tool, driven by MPSConnectdata and the artificial intelligence (AI) algorithms thatmonitor and respond to processes every five seconds.These can be related to register settings, machine speed,pressure settings, job preparation, job memory, webtension, service feedback and more. VirtualCoach thereforeprovides operators with personalised insights on the qualityand efficiency of all the activities they are performing onthe press as well as real-time guidance on how to operatethe press more efficiently. In the live feedback and tips box,operators will receive feedback on how they performedsteps within the job. For instance, how fast the sleevechange was compared to operator benchmarks and whichsteps could be improved in the printing process.
Instead of running the risk of damage by baptising Marvel with a bottle of sparkling wine Redfern went a different route. The factory's self-appointed 'choir' performed a rendition of Shosholoza to make sure the unveiling of the MPS EF340 marked an auspicious occasion for the team. They described the performance as 'welcoming', heart-warming' and 'spirited'. Teresa says, 'I love music. We decided to christen Marvel with a song instead of Champagne. It's a lot more memorable. Shosholoza means 'work hard' or 'go forward'. Our purpose is to print and deliver quality products. We're not perfect, but we aim to be, and we work to achieve excellence. We're committed and we'll always keep on working.'

Redfern team has welcomed their first MPS flexo press EF340 by singing "Shosholoza".