Spanish company chose for highest efficiency and best quality
To offer newest innovations and highest quality products to their customers, Spanish label printer Etygraf invested in a highly automated MPS EFS flexo printing press. The 8-colour machine with de-lam/re-lam, multi-laminator and two die-cutting stations will produce pressure-sensitive labels for the food (fresh and packed) and beverage (wines and spirits) markets.
Founded in 1981 and celebrating their 40th anniversary this year, Etygraf is a medium-sized label printing company based in Valencia. The company uses two main production technologies: flexo for all food labels (only using low migration inks for food packaging compliance) and digital printing for beverage labels. Their machine park consists of three flexo presses, two digital presses and multiple finishing machines.
Only the newest innovations
Printing presses are replaced every five to six years at Etygraf to offer the newest innovations and best quality products. José Carrasquer, Director of Etygraf said: "We want to be known in the market as a provider of the highest efficiency and best quality to our customers. This is especially important nowadays."
Carrasquer shared that after thorough investigations in the market, Etygraf ultimately chose for the MPS EFS flexo press based on demonstrations and references from other Spanish MPS customers. "When we asked: what is the best machine we can buy in the market? The answer was MPS."

Through the long-standing partnership with Grupo Impryma, MPS' local representative in Spain and Portugal, Carrasquer was introduced to two Spanish printing companies that own MPS machines. "These colleagues confirmed they are very happy with MPS. It is true that MPS is more expensive than others, but the higher quality and efficiency far outweigh the increased cost. This for us was the main reason to choose MPS."
The sale was led by MPS Regional Sales Director Niels van Groenendaal, and Javier Gonzalez, Sales Manager at Grupo Impryma. "Their new press and the partnership with us and Grupo Impryma will help Etygraf grow and adapt to the ever-changing market," said van Groenendaal.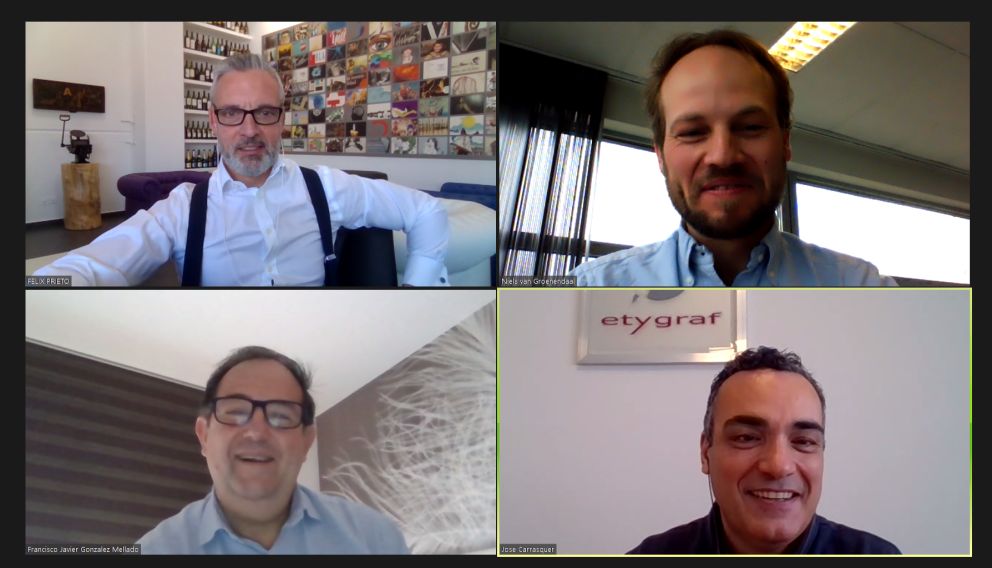 The deal between Etygraf and MPS was closed in a virtual meeting in times of COVID-19.
top-left: Félix Prieto, Grupo Impryma, top-right: Niels van Groenendaal, MPS. bottom-left: Javier Gonzalez, Grupo Impryma, bottom-right: José Carrasquer, Etygraf
MPS for highest efficiency and best quality
As stated by Carrasquer, Etygraf is always at the forefront in adapting new technology innovations. "We want our customers to see that we implement new technologies to continually improve our product offering."
With innovation being a shared value with MPS, Carrasquer is enthusiastic about the new partnership: "This is why Etygraf and MPS are a good match: we both strive for innovation."
Ideal fit for the future
As Etygraf produces pressure-sensitive labels mainly in medium-length runs, it is important for production to work efficiently. As explained by Carrasquer, they want to work as efficiently as possible, which means easy and shorter job change-overs for increased productivity.
MPS is focused on their customers' efficiency and offers additional services in connectivity and performance. Carrasquer concluded: "We love to align with suppliers who like working as a partner. To us, it is important to have that direct communication and total support. We feel this partnership with MPS is an ideal fit for the future."
MPS. Operator Focused, Results Driven.
Let's connect. We're here to help.